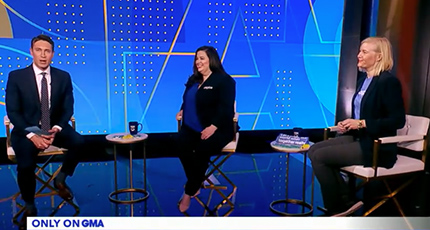 Aspire on Good Morning America
Aspire shared our mission of inclusion on Good Morning America to more than 3 million viewers nationwide!
We're different from most organizations. At Aspire, it's not about profits or office politics. It's about recognizing everyone's full potential. Empowering people with disabilities. And showing our communities what together really means. That's our mission, and we're looking for great people to help us with it.
Impact the future of inclusivity.
It starts with working to make our communities better, but our impact can go much further. When you choose a career at Aspire, you'll have the opportunity to drive change. You can do it by working with people, creating partnerships with other businesses, or as part of our social enterprise initiatives.
At every level of the Aspire organization there are opportunities to lead, learn, and contribute. Need more reasons? We've been named one of the nation's "Best and Brightest Companies to Work for." We offer tons of benefits and flexible work arrangements. And we invest in you so you can focus on creating a future for all.
After all, you help POWER the values that are at our core:
Possibilities
Owning it
Welcoming everyone
Evolving and trying new things
Relationship building
All the ways we invest in you.
Our employees make this whole thing work. Aspire offers a comprehensive benefits package focused on wellness and building your future. It's our way of saying thank you for helping turn possibility into real progress.