Rene was born with a love for trains – at least, it feels that way to him. He can't recall a time in his life when he wasn't passionate about trains. "I think it all started on walks with my grandmother," says Rene, "she says that whenever I heard or saw a train, my eyes would light up."
As time passed, his fascination grew stronger, and he developed a thirst for knowledge about trains and railroad history.
Rene could give a detailed description of his extensive model train collection and is particularly proud of his Lionel and HO scale sets and his latest addition, the excursion train set.
Rene's love for trains extends far beyond the miniature models; he has always aspired to be a part of real trains.
Over the last few years, Rene has set his sights on turning his passion into a career.
Rene partners with Eli, an Aspire Virtual Life Coach, on strategies to help him reach that goal. Together, Rene and Eli found a community of other train hobbyists and enthusiasts and secured Rene a volunteer position at the Illinois Railway Museum. There Rene relishes sharing his passion, knowledge, and love of trains with the many museum visitors he meets.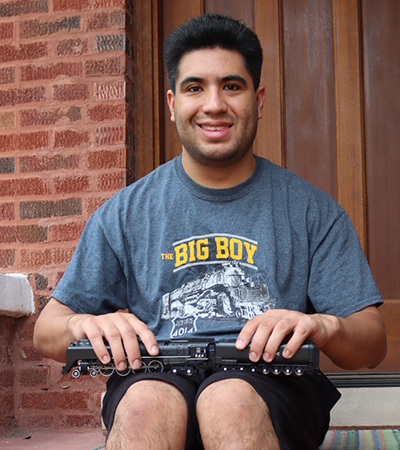 Over the last 14 months, Rene applied to 25 train-based employment opportunities but unfortunately faced numerous challenges and rejections along the way. Rene experienced an all-too-common problem for individuals with disabilities. But Rene says Aspire is a place where "someone is always there to help guide you."
With determination and support from Eli, Rene's dreams are finally within reach. Rene received an interview invitation from Amtrak and was recently offered the job of an apprentice Onboard Services (OBS) trainee.
"This job is a dream come true," said Rene, who has always aspired to become a train engineer. Rene looks forward to the prospect of his new responsibilities, "In my new position, I will assist conductors, educate passengers on safety, and even work on overnight trains."
Rene can now visualize a future filled with adventure. He hopes to explore the country and educate passengers about the rich history of trains and the railroad industry.
Rene's story is a testament to his passion, and determination to chase after his dreams!